Insights
The Evolution of the Office Chair
The evolution of office furniture has been shaped by advancements in technology, evolving design trends, and changing work practices throughout history. Although office furniture has existed for centuries, the concept of creating designated workspaces adorned with furniture explicitly designed for office use gained prominence in the 18th century.
During the 18th century, office furniture predominantly consisted of wooden pieces with intricate designs. Desks, for instance, were often grand and spacious, featuring numerous drawers and compartments to accommodate paperwork and writing materials. Office chairs of that era were also elaborate, adorned with detailed carvings and upholstered seats. However, it's important to note that the primary emphasis was on form rather than function, and the furniture was primarily intended for executives and managers rather than employees.
In this article, we will delve into the evolution of office desks, specifically focusing on task chairs. We will explore how this essential piece of furniture has transformed over time to adapt to changing work environments. Additionally, we will showcase some of our own top recommendations of task chairs that are ideal for the modern workspace.
The Office Chair Evolution Timeline
The evolution of the office chair is closely tied to the development of the modern office space, which emerged during the 18th and 19th centuries.
The 18th Century-
During the 18th century, office chairs were typically crafted from wood and characterized by straight backs and rigid seats. Comfort took a backseat to appearance in the design of these chairs. Interestingly, It is believed that Charles Darwin was one of the first inventors of the office chair. Around the 1840's, Darwin modified his armchair by replacing its existing legs with wheeled legs taken from his bed. His intention was to enhance mobility and access his specimens quicker – and that is how the wheeled office chair was born!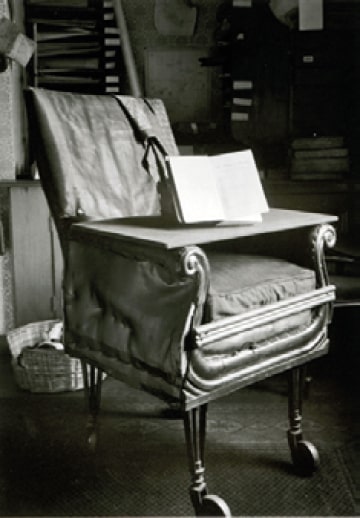 Photo credit: DNA Learning Center


Following this, 1849 saw the arrival of the first mahogany "swivel chair" by American Inventor, Thomas E. Warren. The 'Centripetal Spring Armchair' used a swivel mechanism and castors that enabled workers to easily retrieve items without needing to stand up. It featured cast iron legs, velvet upholstery, and a 'skirt' that was used to conceal the springs underneath the seat.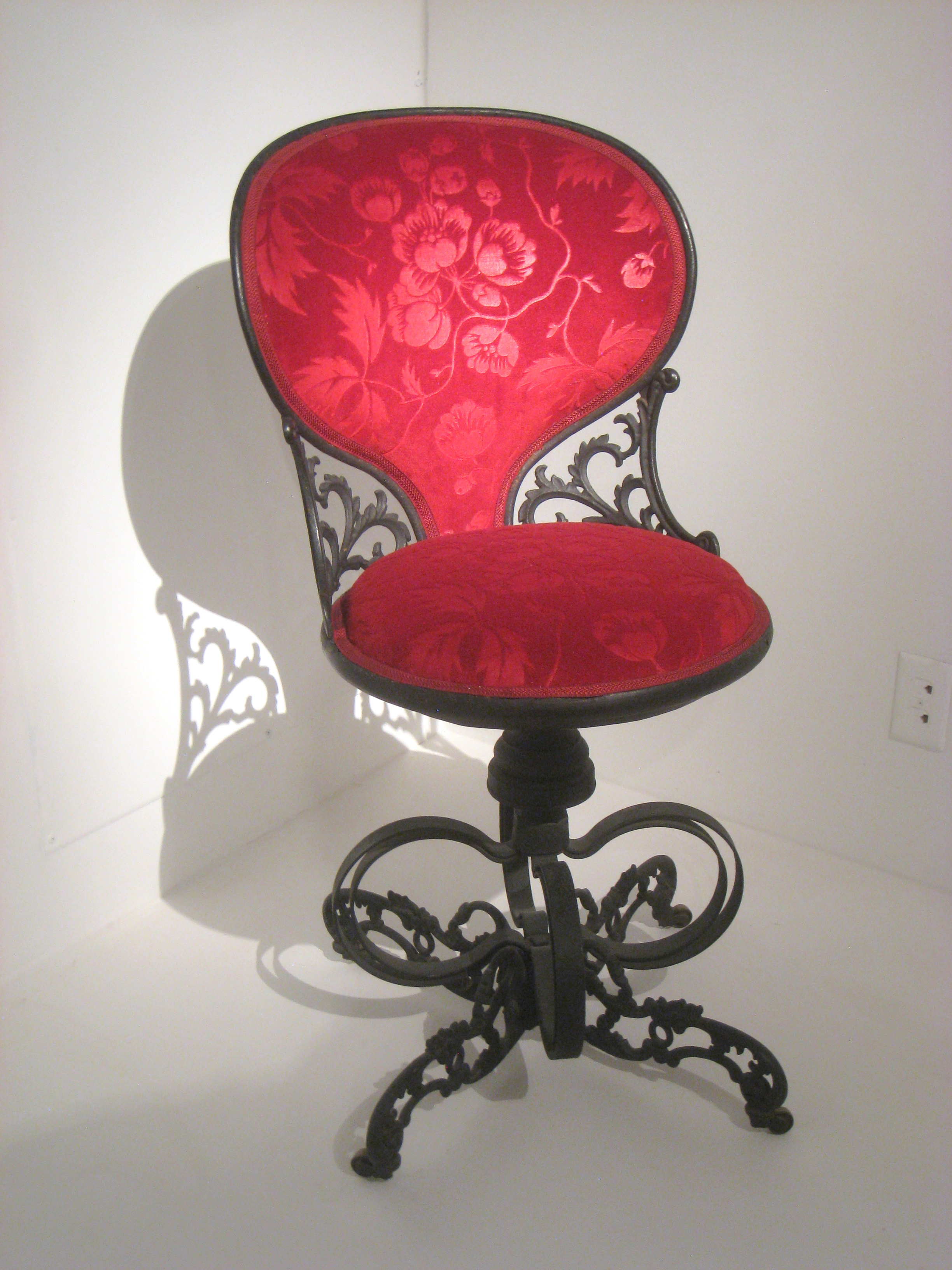 Source: Wikipedia

Overall, while 18th century office chairs may not have offered the ergonomic features and comfort that modern office chairs provide, but they reflected the ornate and luxurious design aesthetic of that era. These chairs symbolised status and prestige in the workplace.


The 19th Century
The 19th century marked the beginning of a shift towards prioritising comfort alongside appearance. It was during this period that the "healthy office chair" trend emerged. Frank Lloyd Wright is considered to be the first person to have designed the world's first ergonomic office chair in 1904. It included a ground-breaking feature at that time, which was a seat height-adjustment mechanism. Similarly, in 1976, Bill Stumpf produced the famous 'Ergon Chair' which is thought to be the inspiration behind the task chair design as we know it. The Ergon chair was a significant milestone as it aimed to improve user comfort and sustain their physical health. It included a foam-filled seat and backrest, a more innovative spine support that was not seen before, and gas-lift levers that allowed for height adjustment and tilt mechanisms.
These advancements in ergonomic office chair design have paved the way for the contemporary task chairs we utilise to provide optimal comfort and support for prolonged periods of sitting.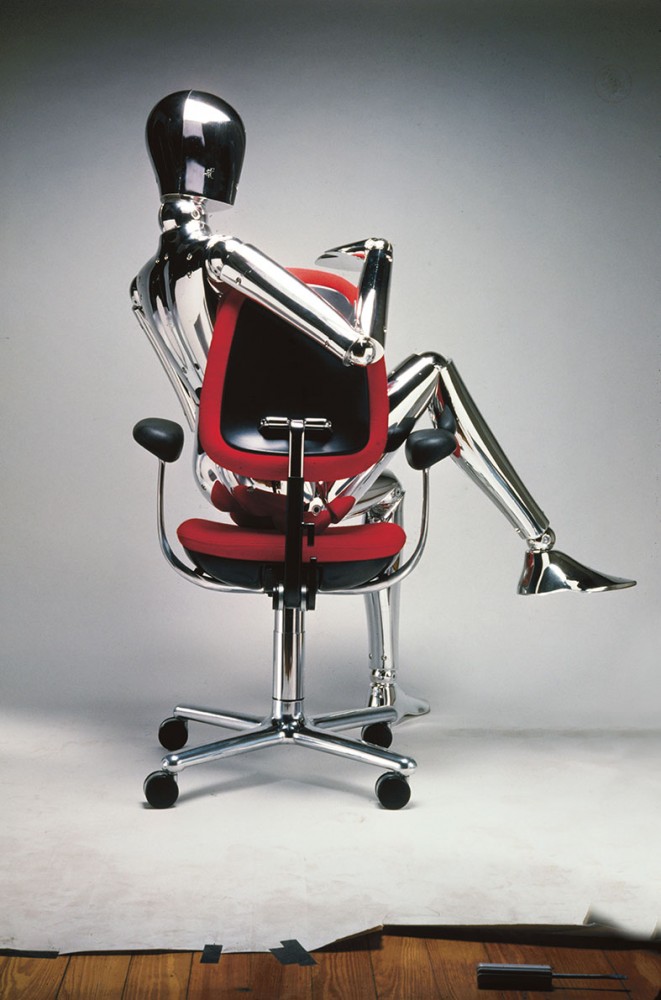 Source: Pinup Magazine

Following this, the 1970's also brought the first automatically adjustable office chair, designed by Emilio Ambasz and Giancarlo Piretti. The 'Vertebra' office chair was created to respond and adapt to the needed level of comfort required by the user. It even won the ID Award for Excellence of Design in 1977, which begun the research into more ergonomically designed office chairs!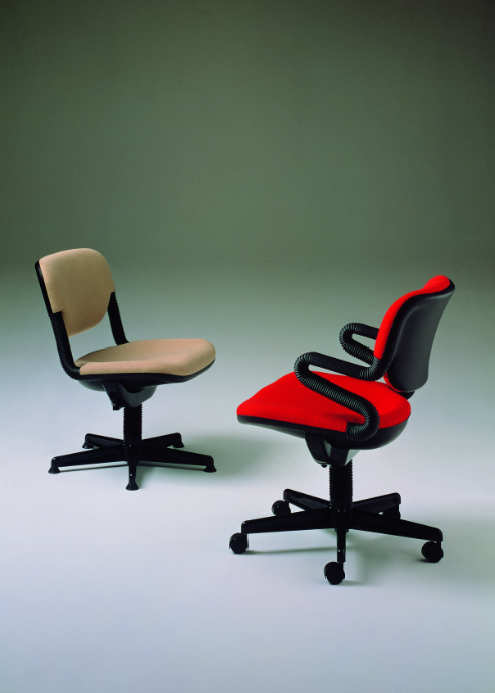 Source: Elle Décor Italia


The 20th Century-
The 20th century is not only when we saw the rise of fully ergonomic office furniture, but it is also when modern office furniture gained popularity and was designed for efficiency and functionality. For example, steel and aluminium became popular materials during this time, and the furniture was designed for specific tasks such as typing or filing.
The late 20th century was when a greater emphasis on ergonomic office furniture truly began. It meant that the office furniture was more often designed to improve comfort and reduce physical stress and injury in the workplace. The chairs now had adjustable features such as lumbar support, armrests, and were specifically designed to promote good posture.
 
The 21st Century-
In the 21st century, there has been a growing emphasis on sustainability. We are seeing an increasing number of sustainable chairs on the market that are made from eco-friendly materials such as recycled plastic and bamboo. The motivation is that these office chairs will minimise environmental impact while still providing the comfort and functionality that is now expected. So, watch this space as we are sure that office chairs will continue to evolve for the better.
At Haiken, we have a variety of ergonomic office chairs that are built to ensure superior comfort to the user. For example, our Webb 2.0 has become an all-time favourite thanks to its excellent ergonomic design that features a supportive seat slide, a 6-position lockable backrest, 3D armrests, and a self-synchro mechanism that automatically adjusts to the user's weight. Similarly, the Stirling task chair blends style and incomparable user comfort, specially created with sensitive foam so that the seat moulds to every individual.
Task seating from Haiken
Overall, the evolution of office chairs has been driven by a combination of technology advances, changing work practices, and design trends. Today, office chairs are designed to be functional, comfortable, and environmentally sustainable.
As office furniture continues to evolve, so do we. At Haiken, we keep up with the trends with our office furniture design expertise and are constantly innovating and finding new ways to redefine how people think about office furniture.
To find out more about our office furniture solutions, please feel free to contact us today.